A Thrusting vibrator is a type of sex toy that can provide intense stimulation during sex. It is designed to mimic the thrusting motion of penetration and can be used to stimulate the clitoris, G-spot, or both simultaneously. Many Thrusting vibrators also have rotating beads or pearls in the shaft, which can add additional stimulation.
How to Use a Thrusting Vibrator
Start with the vibrator turned off. Get used to the sensation of it inside you before turning it on.
Apply plenty of lube.
Experiment with different speeds and patterns to find what feels best.
If you're using it anally, be sure to use a condom and plenty of lube.
What Is a Thrusting Vibrator
A thrusting vibrator is a type of vibrator that features a shaft that thrusts in and out, providing stimulation similar to that of penetrative sex. Depending on the design, this vibrator can be used for clitoral stimulation, vaginal stimulation, or anal stimulation. Some woman thrusting vibrators also feature rotating beads or pearls in the shaft, which provide additional stimulation.
Thrusting vibrators can be used for solo play or during sex with a partner. When used during sex, a thrusting vibrator can provide clitoral stimulation for her and penetration for him. This can help to enhance the experience for both partners and make sex more enjoyable.
If you're looking for a new way to spice up your sex life, a thrusting vibrator may be just what you need.
How to Use the Thrusting Vibrator: Step by Step
When you want to get the most out of your Thrusting vibrator, follow these simple steps:
Start by finding a comfortable position. This could be lying down on your back with your legs slightly apart or sitting up with your legs crossed.
Apply some lubricant to your vibrator and your genitals. This will help reduce friction and make the experience more pleasurable.
Gently insert the vibrator into your vagina.
Use the controls to find a speed and rhythm that feels good for you. Experiment with different settings until you find what you like.
When you're ready, let the vibrator do its work. Enjoy the sensations and let yourself relax into the experience.
When you're finished, simply remove the vibrator and clean it with soap and water.
How to Use the Thrusting Vibrator With a Partner
A vibrator is a great way to add extra excitement to your sex life with your partner. Here are some tips on how to use it:
Start with foreplay to get your partner excited. Kissing, touching, and oral sex are all great ways to get your partner turned on.
When your partner is aroused, slowly insert a pressure vibrator into his vagina or anus.
Adjust the speed and pressure of the vibrator to find what your partner likes best.
Ask your partner to hold the vibrator while you stimulate his other erogenous zones with your hands and mouth.
Reach out and stimulate your partner's clit with the vibrator while he sits on it.
As your partner approaches orgasm, increase the speed and pressure of the vibrator for even more intense sensations.
When your partner reaches orgasm, gently remove the vibrator and enjoy the aftertaste together.
Poses
A thrusting sex toys can be an incredibly versatile tool for solo and partner play. Here are some ideas for how to use it:
For solo play:
Lie on your back and insert the vibrator. Use it hands-free by propping it up with a pillow or wedge.
Start with slow, shallow thrusts and gradually increase the depth and speed.
Experiment with different angles to find what feels best.
Use your other hand to stimulate your clitoris, nipples, or other erogenous zones.
Try writhe around and grinding on the vibrator for a different sensation.
If you have a long vibrator, you can try lying on your stomach and thrusting it into your vagina from behind.
For partner play:
Have your partner hold the vibrator and insert it into you.
Have them lie on their back and use it on you in a missionary position.
Try using a Thrusting vibrator in the doggy style, with you either on all fours or leaning over a chair or table.
Get creative and use it in any other position you can think of!
If you have a remote-controlled vibrator, your partner can control the settings from across the room for a fun way to tease and please you.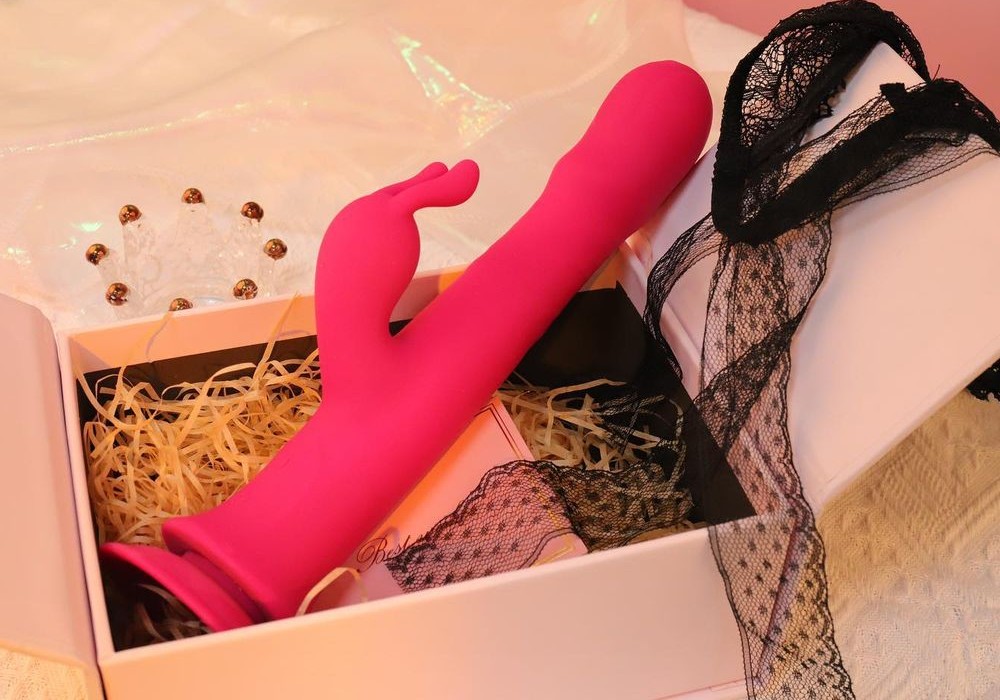 How to Clean the Thrusting Vibrator After Use
Cleaning your vibrator is important for both your health and the longevity of your toy. Here are some tips on how to clean a thrusting vibrator after use:
First, remove the batteries from your vibrator. Then, run warm water over the device, being careful not to get the electrical components wet.
Next, apply mild soap to the vibrator and use your hands to clean it. Be sure to rinse the soap off completely.
Once the vibrator is clean, dry it off with a clean towel.
Finally, apply a small amount of sex toy cleaner to a clean cloth and wipe down the device. Store your vibrator in a cool, dry place.
Also read:
Conclusion
Thrusting vibrators are ideal for anyone who wants to experience deeper, more intense stimulation during sex. They can be used solo or with a partner and are a great way to add variety to your sex life. If you're looking for a way to take your orgasms to the next level, a Thrusting vibrator is a great option!